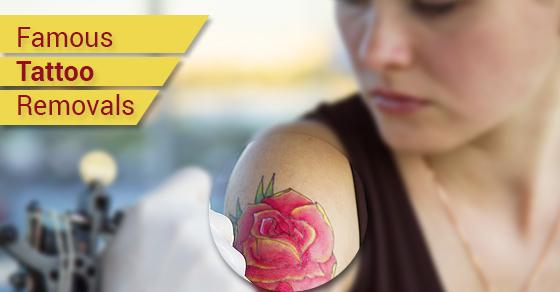 Famous Tattoo Removals
There are a lot of ways to make a personal statement, and tattoos are one of them. However, the once permanent body modifications no longer have their lasting significance, as new technology has made it easy to remove unwanted tattoos.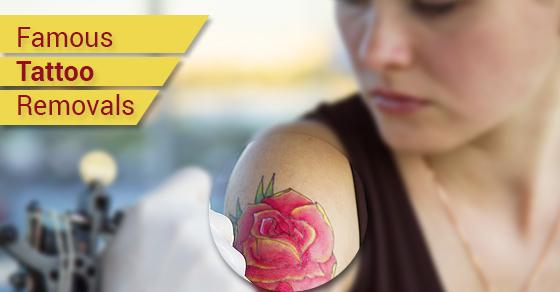 Celebrities are now choosing to remove their equally famous tattoos for different reasons. For some, it's a career move, while others (a majority, it often seems like) are looking to erase the memories of a failed relationship.
Here are some famous examples of successful tattoo removals!
Eva Longoria
Eva Longoria made her breakthrough starring in the hit television series Desperate Housewives, and after marrying basketball star Tony Parker, she decided to have the word "nine" tattooed on your upper neck as a tribute to his famous Spurs jersey.
Unfortunately, the couple divorced just a few years later. Naturally, the tattoo had to go, too. She soon began taking the steps to have it removed.
Johnny Depp
Johnny Depp has had a long history with both tattoos and romances. After meeting while filming Edward Scissorhands, he and actress Winona Ryder soon became an item.
As one might expect, not long after hooking up he had her name tattooed on his upper arm, immortalizing their relationship with the words "Winona Forever."
Unfortunately it wasn't enough to keep the relationship going, and the couple split up shortly after getting his ink. This tattoo has become famous not because of what it was, but what it became. The actor cleverly changed it to read "Wino Forever."
Angelina Jolie
When Angelina Jolie and Billy Bob Thornton were the hot couple in Hollywood, they often made the news for their eccentric shows of affection, which included wearing lockets around their necks containing each other's blood.
The actress also tattooed Billy Bob's name on her left arm to further demonstrate her love for the actor. In 2003, the couple split up and Jolie decided to remove the tattoo.
Melanie Griffith
Yet another statement of love gone wrong occurred to actress Melanie Griffith. After marrying actor Antonio Banderas, Griffith decided to tattoo a heart with his name in it on her upper arm.
As seems to be the trend with celebrities who get inked declarations of love, this relationship also came to an end. Griffith decided to keep the heart while only removing Antonio's name.
Mark Wahlberg
Not all tattoo removals occur as a result of a failed romance. In the case of Mark Wahlberg, the actor simply wanted to set a good example for his children.
Not only did he choose to undergo tattoo removal, but he also insisted that his kids join him to watch the procedure in the hopes that it might deter them from getting their own tattoos in the future.
Both celebrities and the general public are using tattoo removals more frequently. New lasers provide a more effective treatment that can eliminate a variety of colors and inks. Using the right wavelengths, laser treatments can eliminate the dark inks that were previously difficult to remove.
These celebrities have taken advantage of the advanced removal technology available to eliminate tattoos completely. No matter what the reason for getting the tattoos in the first place, tattoo removals have helped people get back the bodies they want!