Friends Forever.

Fillers and friendship: The evolving beauty of Jennifer Aniston and Courteney Cox
The beautiful Courteney Cox (53) and Jennifer Aniston (49) have been friends for 20+ years, beginning with their life-changing roles in Friends, one of the top-rated sitcoms of all time. Their friendship has lasted longer than their past marriages, although we are rooting for Courtney and her love Johnny McDaid, the Snow Patrol singer, to beat the odds.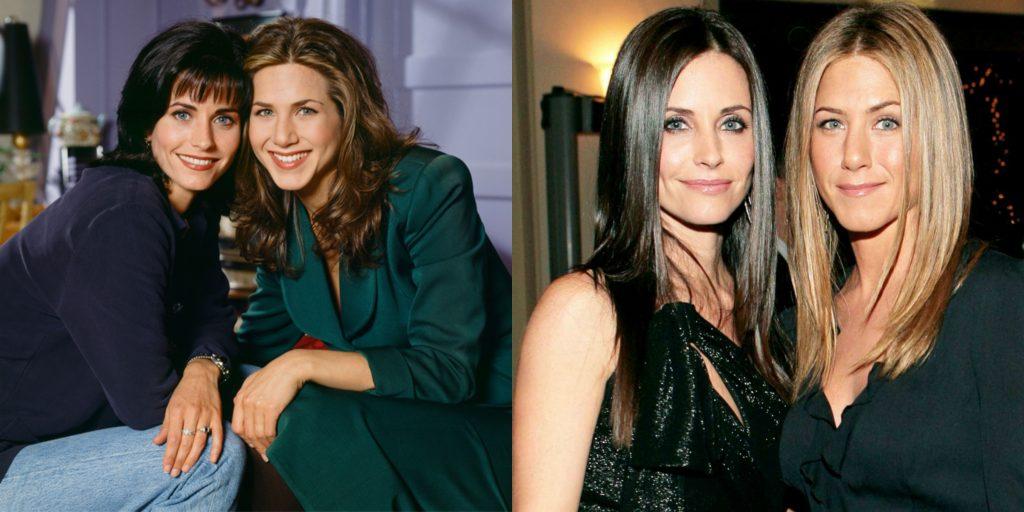 Then and now
When we first met them on Friends, they were beautiful young women at the beginning of their careers. Today, in their late 40's and early 50's, with many achievements under their waist cinching belts; they join the ranks of women who change the way we perceive aging. They don't just look good for their age—they look sexy and gorgeous period. So how do they maintain their youthful appearance? Through discipline and commitment to the basics: a clean diet, regular workouts, meditation, and regular trips to a cosmetic physician to pamper their skin. Both actors are forthcoming about treatments they use to keep their skin glowing. Jennifer loves lasers and Ultherapy skin tightening, and Courtney swears by PRP Micro Needling.
"I eat really well and I work out, but I also indulge when I want to. I don't starve myself in an extremist way," she said. "You're not taking away my coffee or my dairy or my glass of wine because I'd be devastated. My advice: just stop eating shit every day." – Jennifer Aniston via Huffington Post
How much is too much?
We all remember Courtney's unfortunate period during her show, Cougar Town, when she was overzealous with fillers, and rather than looking younger, just looked stretched out, puffy and strange. We're happy to see she's adopted a more moderate approach—and the results are beautiful. While she claims she has no fillers now and is relying solely on facials and PRP Micro Needling, it's our guess that she is using fillers and Botox in the manner they are intended and by a skilled injector who knows that less is often more. In the current picture on the right, she looks refreshed, glowing, natural and stunning.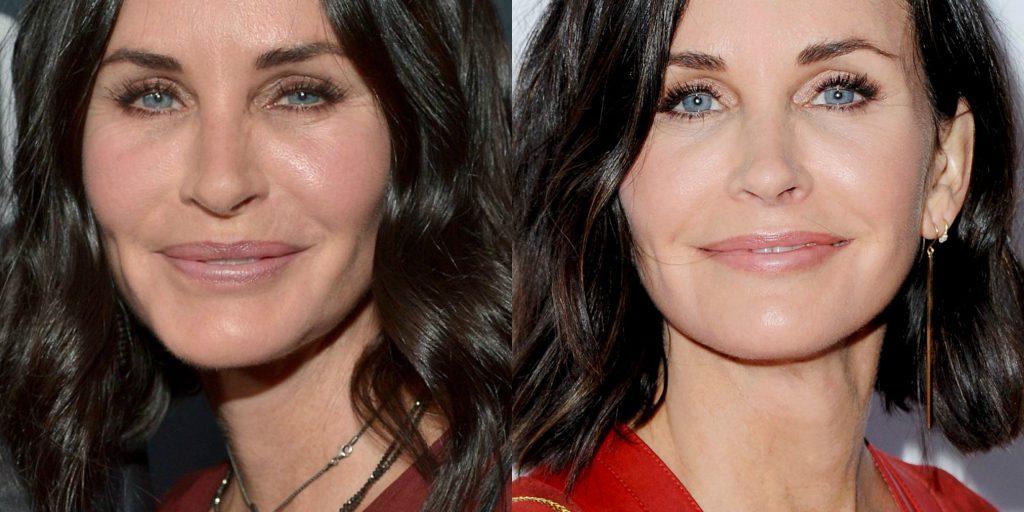 Filler Tips
We love injecting fillers in our in our patient's cheeks to compensate for fat loss and to give the face a lift. When overfilled, however, or when the placement is off, it creates the unfortunate effect of giving the eyes a sunken look and minimizing the temple area and the chin—an unfortunate effect loosely called 'peanut' face—commonly seen in the elderly or those with significant fat loss. Luckily, Cox's friends did the right thing and told her, "It's too much! Stop already!" She now looks fresh and natural, opting for weekly facials and Micro Needling (PRP treatments) to improve her skin texture and give her a glow. We strongly suspect she is still using fillers and Botox, but with a subtle application and a doctor skilled in facial anatomy. She looks gorgeous; fresh and lifted but natural.
The Future is Bright
We look forward to watching these two beauties in upcoming projects. They are gorgeous, but it's their down to earth manner and the emphasis on friendship, love and life that inspires. We should all take a lesson from their playbook and go and call our best friend right this instant.
For information on how to achieve cosmetic results that are flattering and natural, call our clinic at (604) 942-8849 and take your first step to looking and feeling great.