Non-Surgical Nose Job as an
Alternative to Rhinoplasty
Non-Surgical Nose Job as an Alternative to Rhinoplasty
Are you self conscious about your nose? For many years, a surgical rhinoplasty was your only option if you wanted to reshape your nose. Now, injectable cosmetics can refine and reshape your nose, for an immediate improvement that is generally accomplished in under 15 minutes. Dr. Yam or Dr. Zheng use dermal fillers to correct imbalances, and make the nose appear more refined. While dermal fillers technically "plump" indentations (add volume), the results actually make the nose appear smaller. The procedure is also popular among our Asian patients who may want to build up the shape of their nose for better definition.
Non-surgical correction of:
A common complaint among our patients is a visible hump on the nose. By filling in the indentation above the area, our doctors create a smooth line to create better facial balance and give the illusion of a perfectly straight nose—or to create symmetry in an otherwise crooked nose. Strategically placed dermal filler also creates a visual "lift" to the tip of the nose, which may appear to be overhanging (due to genetics), or drooping (due to age).
Dermal fillers are comprised of hyaluronic acid, a natural substance found in the human body, which binds to moisture, and gently adds volume, allowing for non-surgical correction of facial imbalances. A non surgical nose job is an excellent alternative for those unwilling to go under the knife, or are unable to afford the expense, or lengthy and painful recovery period associated with a rhinoplasty.
Types of fillers used for a non-surgical nose job
Benefits of a non-surgical nose job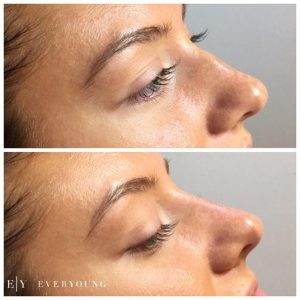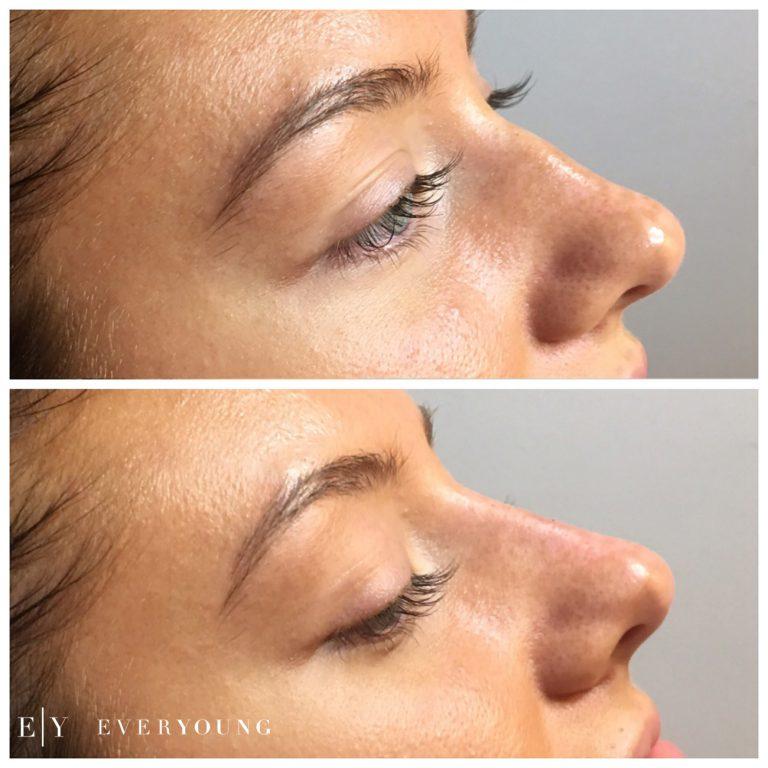 At EverYoung Medical Aesthetics Vancouver, our cosmetic doctors will improve your appearance while maintaining a natural, beautiful result that is never overdone. We invite you to book a consultation and view the many examples of cosmetic transformations performed in our Medspa Clinics in Port Coquitlam and Burnaby.
CALL US NOW TO BOOK AN APPOINTMENT