Votiva™
Vaginal Rejuvenation
Treatment
Votiva™ (Vaginal Rejuvenation, Tightening & Vaginal Laxity) Treatments in Vancouver, Burnaby & Coquitlam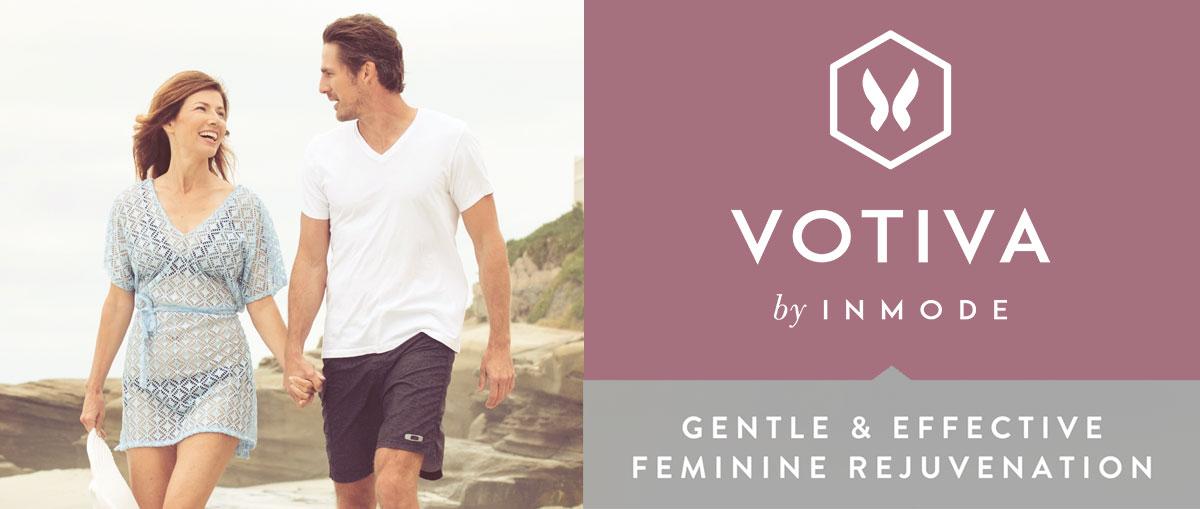 ABOUT OUR VOTIVA VANCOUVER VAGINAL REJUVENTATION TREATMENT
Votiva Vaginal Rejuvenation is a safe and comfortable treatment to rejuvenate the internal and external vaginal area in women who have noticed changes due to the aging process, menopause, or childbirth. It improves feminine health, sexual health, and the visual appearance of the vagina in a gentle treatment that is comfortable.
Votiva offers both immediate and accumulative results with a series of 3 treatments for continued improvement over time by addressing the top feminine health concerns.
TREATABLE CONCERNS
Skin laxity and wrinkled appearance of the labia and vulva

Loosened vaginal canal (particularly after childbirth)

Urinary stress incontinence

Weakening of the vaginal muscles

Vaginal dryness

Pain caused by labial hypertrophy

Low blood flow and sensitivity

Pain sensation

Diminished sexual interest due to the above changes
HOW VOTIVA WORKS
Votiva combines gentle, controlled volumetric heating of the tissues combined with fractional technology to reduce pain, improve blood circulation, and stimulate the muscles. It contracts collagen to tighten the tissue; creating new blood vessels to reduce symptoms and improve the inner functioning and appearance of the vaginal area. This renewal process helps the vagina to behave younger. This treatment is non surgical and comfortable with virtually no downtime.
As we get older, it's important to pay attention to our sexual health. Normal aging, perimenopause, menopause, and childbirth often cause a widening of the vaginal canal that results in dryness, uncomfortable sex, reduction in pleasurable sensation, and weaker bladder control. Votiva addresses these concerns, without surgery, for greater confidence, better intimacy, and improved overall health and wellness. It also helps to restore the appearance of the vagina for greater confidence.
BEFORE AND AFTER PHOTOS OF VOTIVA VAGINAL REJUVENATION
WARNING: This page contains nudity. If you are offended by such material or are not 18 years or older, please click the CANCEL button now. Click CONSENT if you consent to viewing such content.
BENEFITS of VOTIVA VAGINAL LAXITY TREATMENTS