PRP Hair Loss
Treatments Vancouver
PRP Hair Loss Treatments Vancouver
When you have a thinning head of hair or are balding, you can feel self-conscious and insecure about your appearance. It's hard to maintain a positive outlook on life when the way people see you is so different from how you perceive yourself.
For some people who experience male pattern baldness, it can lead to anxiety and depression. Luckily there are treatments for this condition that help reverse the effects of hair loss.
One such solution is PRP hair loss treatments which use plasma rich in growth factors to stimulate hair follicles and encourage new hair growth while reducing inflammation around the scalp.
In recent studies, men with early-stage male pattern baldness saw an average increase of nearly 18% in their density within only six months!
Women saw similar results, with an average increase in density of 16%. PRP is a much better alternative than the older hair transplant procedures that used plugs of skin with hairs.
How does PRP treatment work?
Hair loss is the result of genetic factors and hormones. When a hair follicle goes into hibernation, it causes the hair to thin and eventually fall out.
The PRP (Platelet Rich Plasma) therapy for hair uses your blood plasma which contains growth factors that activate dormant hair follicles, fortifying the hair root and stimulating new healthy growth.
The PRP hair loss treatment makes it easier for the follicles to access oxygen and nutrients, along with preventing future hair loss even after treatments are discontinued.
Injecting plasma rich in growth factors has been shown to boost collagen production beneath the scalp skin as well as thicken existing hair.
The rush of vitamins, growth factors, and antioxidants when properly injected at the target sites, activates dormant hair follicles and makes existing hair fuller, and thicker.
A PRP hair treatment is a quick non-surgical alternative to surgery and can help you get back to feeling confident and enjoying life.
Benefits Of PRP Hair Restoration Treatments
Some benefits of PRP include:
Treatments are done in your dermatologist's office, with a series of PRP sessions as needed. You can resume your normal activities immediately and no one will even know you have been treated!
What does PRP target?
Our PRP injections are designed to block the formation of dihydrotestosterone, which causes hair loss. We use growth factors that activate tired and dying roots. The treatment also provides deep cleansing for an overall healthy scalp appearance.
Our professional staff understands the emotional toll that excessive hair loss can have on a person's life. We also know how frustrating it is to deal with the side effects of prescription drugs without positive results.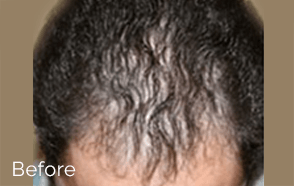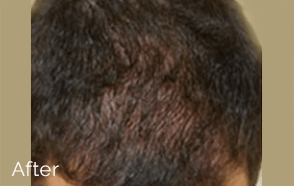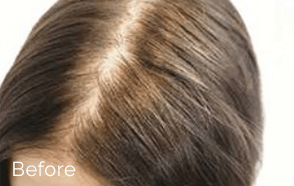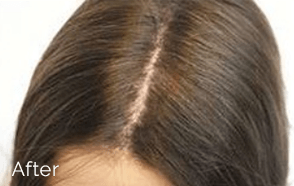 PRP Hair Loss Treatments at a Glance
Who is a good candidate for hair PRP?
Many people are good candidates for PRP hair loss treatments. Generally, those suffering from the effects of aging, chemotherapy, or alopecia are excellent candidates. As well, women who are experiencing alopecia or thinning hair.
People have been treated with PRP therapy for hair loss, skin rejuvenation, and pain management so it's clear that PRP works effectively on multiple conditions.
Types of Hair Loss Hair PRP Can Treat
The PRP treatment involves taking a sample of your blood, plasma and platelets are separated then injected back into the scalp. The PRP injection contains hyaluronic acid which helps to hydrate the skin and stimulate collagen production.
After PRP treatment for hair loss, a topical anesthetic is placed on the scalp to make you more comfortable during the PRP injection process. Topical anesthetics are applied and PRP injections take place in four sections of the scalp.
The PRP hair loss treatment is much better than transplants with plugs of skin-bearing hairs because there is no surgery involved. Treatment improves hair quality while increasing the number of healthy hair follicles and strengthening current roots.
By using PRP, the hair follicles will be stimulated to grow back thicker and stronger.
Hair transplants, on the other hand, are invasive procedures where plugs of skin with hairs are grafted onto bald areas on the scalp. A PRP treatment uses your plasma to stimulate dormant roots and make existing hair healthier.
This PRP treatment is a great non-surgical alternative to hair implantation and is proven effective.
Concerned about thinning hair or balding?
If you're ready to shed the worries of thinning hair for good, PRP therapy is a quick and easy way to boost your self-esteem.
So what are you waiting for? Schedule your PRP consultation with Everyoung Med Vancouver today!
FAQs About PRP for Hair Loss
The rush of vitamins, growth factors, and antioxidants when properly injection at the target sites, activates dormant hair follicles and makes existing hair fuller, and thicker.
Our doctor may also recommend a prescription medication to decrease sensitivity to hormonally-induced hair loss/thinning.
You will receive a thorough hair examination by our trained consultants. Rest assured that you will be treated with the latest treatment that the scientific and medical professions can offer.
Our protocol aims to block the formation of the hormone dihydro-testosterone. The treatment reactivates tired and suffering hair roots using the growth factors. The treatment also provides a deep cleansing to help to improve the overall scalp condition and appearance.
With locations in Burnaby & Port Coquitlam, we proudly serve people throughout Greater Vancouver and the lower mainland with all of their hair, skin and beauty needs. Contact us now to book an appointment.