The term "Vaginal Rejuvenation" encompasses a number of treatments, all aimed to rejuvenate the internal and/or external vaginal area in women from changes due to menopause, childbirth, the aging process, and other reasons. Treatments can improve a number of different aspects of vaginal health in addition to aesthetics like improving skin laxity and reducing a wrinkled appearance. This includes feminine and sexual health related conditions like vaginal dryness, pain from labial hypertrophy, low blood flow and sensitivity, pain sensation, urinary stress incontinence, loosened vaginal canal, weakening of the vaginal muscles, and diminished sexual interest due to the previously mentioned factors.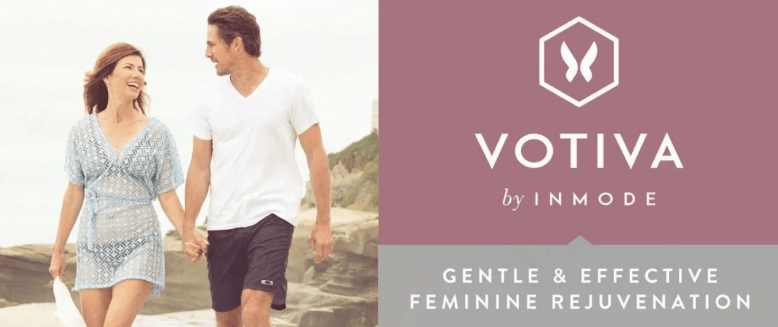 One of the most popular treatments on the market today is Votiva Vaginal Rejuvenation by InMode. InMode's Votiva is the first technology on the market that treats both internal and external vaginal issues where patients can opt for FractoraV (external), FormaV (internal), or both during their treatment. This novel technology has several benefits, including:
Gentle and controlled methodology during treatment; non-painful
Votiva combines volumetric heating of tissues and fractional technology to stimulate the muscles, improve blood circulation, and reduce pain. By contracting collagen to tighten the tissue, it creates new blood vessels to reduce symptoms and revive the vagina's appearance. 
Zero downtime, best non-surgical option
The treatment does not require a recovery period, nor is it invasive. 
Votiva can help with incontinence treatment to do with bladder prolapse when your pelvic floor muscles weaken and the vaginal support of your bladder weakens. 
Votiva increases blood flow and sensitivity to treat sagging tissues through non-invasive radiofrequency that is applied to the tissues. This has a stimulating effect on the production of collagen and elastin. 
Strengthens muscles for a tighter vaginal canal
Votiva acts as an adjunct to Kegel exercises, working to tighten the muscles of the pelvic floor to increase muscle tone. 
Smoothen and tightens outer genital skin 
Due to potential loss in elastin and collagen, Votiva can help with elasticity and wrinkles on the vulva and labia.
Improves overall vaginal health
Votiva helps with vaginal health symptoms such as itching, laxity, atrophy, dryness, and more.
EverYoungMed offers Votiva Vaginal Rejuvenation at their Medispa clinics in Vancouver in Burnaby and Coquitlam. If you are interested in improving your sexual health or the appearance and health of your vagina, book an appointment today.