Dermal fillers work to restore the fullness and volume in the face that is lost due to aging or due to external factors like exposure to the sun and your lifestyle, as well as internal factors such as genetics. Unlike Botox, which primarily aims to minimize the appearance of wrinkles and lines, dermal fillers are injected substances beneath the skin's surface to give certain areas a plumper look to soften the smile lines, the deep wrinkles, the marionette lines and more. They are primarily used to reverse signs of aging, enhancing facial features, and sculpting the face in order to restore the youthful plumpness of the face. Dermal fillers can also be used for acne scars treatments, and help reduce the pain of arthritis. Most dermal fillers are made with Hyaluronic Acid, which is a naturally occurring component in our own skin and helps with sustaining skin structure, hydration, and tone.    
There are three comprehensive purposes for dermal fillers: 
to reduce the prominence of wrinkles and lines.

to restore lost facial volume

to sculpt enhance feminine/masculine features of the face such as the cheeks, jawline and chin augmentation.  
Dermal fillers can plump up the skin to create a smooth surface and ease expression lines, create a lifting effect non-surgically, and correct asymmetries or augment features like the lips or nose.
There is a wide array of FDA approved dermal fillers on the market, including hyaluronic fillers (Juvederm, Restylane, Stylage, Revanesse, Teosyal, Belotero) and non-hyaluronic fillers (Radiesse, Sculptra, Bellafill) These brands all utilize different types of dermal fillers, which are discussed below.

Polylactic acid
Polylactic acid such as Sculptra is a collagen-stimulating dermal filler that causes the body to produce more collagen and elastin on its own. This stimulator is non-toxic and biodegradable, working best in the lower half of one's face. Rather than produce immediate results like other dermal fillers on this list, it stimulates a natural production of collagen where results appear gradually after a few months.
With this dermal filler, patients will likely need three monthly treatments to visualize desired results, and consequently four to six weeks after the injections for full effect after each treatment. Some of the most prominent treatments include: 
Replace facial volume

Restore deep nasolabial folds

Treat facial wasting from HIV medication

Restores deep nasolabial folds

Hyaluronic acid
Hyaluronic acid is what the brand Juvederm uses. As a natural substance found in the body's connective tissues and cartilage and joint fluids, this popular injectable filler is extracted and reformulated for both cosmetic and non-cosmetic purposes. People with arthritis often get hyaluronic acid injected into their aching joints to provide cushioning and ease the pain. Hyaluronic acid is used for several depressions and contours in the skin, some of which are listed below:
Frown lines

Deep smile lines (nasolabial furrows)

Marionette lines

Fine lines

Fill up tear trough

Plump thin lips

Enhance cheekbone and jawline prominence

Non surgical nose Augmentation

Calcium Hydroxylapatite
Calcium hydroxylapatite is a natural, mineral-like compound found naturally in human bones.  Some of the benefits include its long safety record, as well as the fact that no animal product is used. Calcium hydroxylapatite is often used for:
Enhancing fullness of the cheeks and facial contours

Improve volume in facial wasting areas

Moderate to severe creases like frown lines or marionette lines

Polymethyl-methacrylate microspheres (PMMA) – Bellafill the 5 year filler!
Bellafill is the only approved semi-permanent dermal filler made with PMMA beads and bovine collagen that has results lasting over 5+ years. This filler is the most studied filler on the market with over 20+ years of patients history. It is ideal for those who prefers a long-term solution and natural results. It is often used for medium to deep wrinkles, folds, and furrows. PMMA may take up to three months for the full effects to appear after several injections.
Restore deep nasolabial folds

Improve volume in facial wasting areas

Acne scars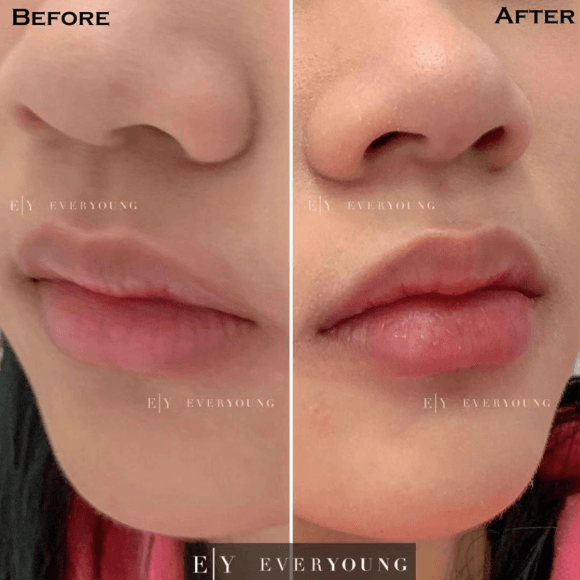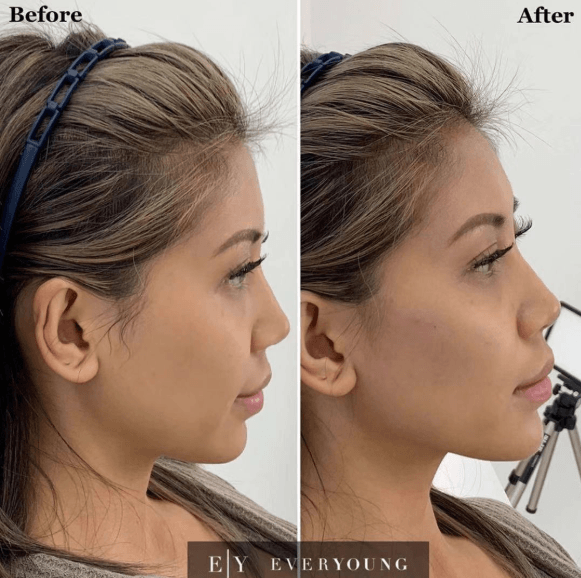 With the number of different dermal fillers available, each one is designed to treat different cosmetic issues. Through a consultation, we will discuss your individual needs and determine which filler will best achieve the outcome you desire. Our certified physician injectors are experts at understanding facial anatomy and focus on creating natural results above and beyond your expectations. 
If you are interested in the results that dermal fillers offer, book a consultation at EverYoung Laser and Skincare Clinic in Metro Vancouver, (Burnaby or Coquitlam). EverYoung's Medspa Clinics offer every FDA-approved dermal filler available in Canada. Patients can choose to work with facial sculpting, enhance facial volume, or simply reduce the visibility of wrinkles and lines for a more youthful look.