A Guide to Cosmetic Facial Sculpting: Cheek, Chin, Jawline, Lips, Nose
Facial Sculpting is an art form that allows our Vancouver EverYoung doctors in Port Coquitlam and Burnaby to achieve beautiful facial balance for our male and female patients. It requires advanced injection techniques and precise placement of dermal fillers to improve facial proportions, create symmetry, and perfect individual features to achieve both balance and beauty. It also addresses the signs of aging by correcting the downward lines associated with sagging skin—or to add back lost volume. Non Surgical Facial Sculpting with dermal fillers is one of our most popular cosmetic treatments in Vancouver BC, and provides instant gratification as results are immediate.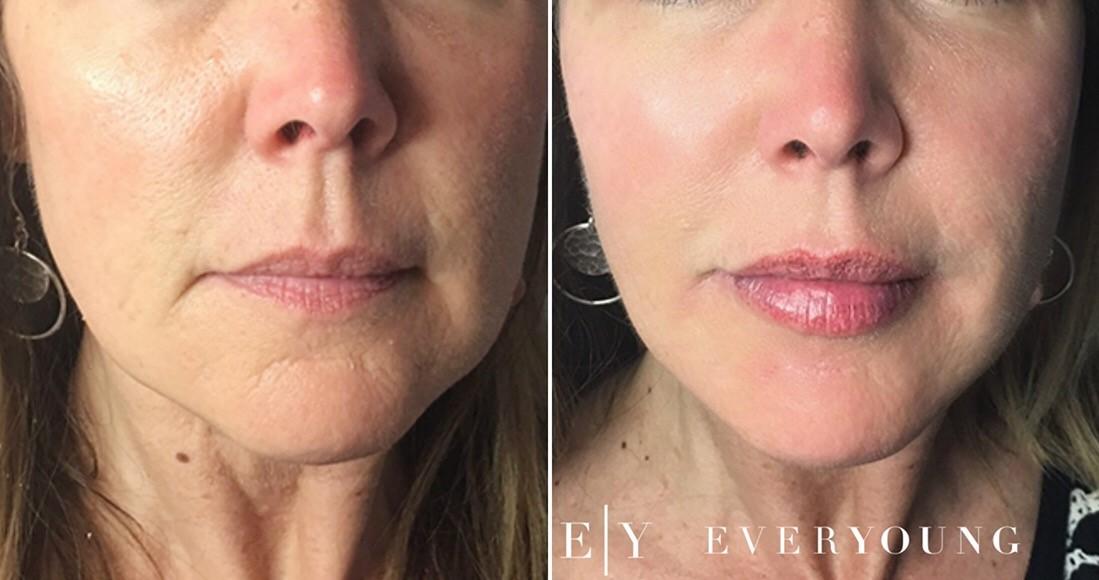 Actual EverYoung patient / Cheek, Jawline and Lip Enhancement
Cheek Enhancement in Vancouver
Not all of us are born with chiseled cheekbones—and if you desire a more pronounced or contoured cheek area—dermal fillers are used to achieve this. By adding volume to the area, we can re-balance the face and create a light reflective, more angular or contoured look. In the case of aging, you may have noticed sagging or deflation through your mid face—resulting in less pronounced cheek bones. Dermal fillers will replace the fat lost to the aging process to give you're a healthier, fuller and lifted appearance. Filler in the cheek area also helps to give a "lift" to the lower face; softening nasal labial folds (smile lines) and jowls.
Chin and Jawline Shaping in Vancouver
Defining the chin and jawline
If you have a weak or undefined jawline, dermal fillers are used to add volume and projection for a more flattering view from both a front and side angle. The added volume won't make you look heavy through the jaw or chin—but rather creates a more chiseled, angular or defined jawline or chin by building up the area for better overall facial proportions. This is a popular treatment for men who desire a stronger profile.
Creating an oval-shaped face
Some patients have very strong masseter muscles (used for chewing), which gives them an overly wide jawline that can look masculine. By injecting Botox into the muscle, our EverYoung doctors in greater Vancouver, Burnaby and Port Coquitlam are able to slim the jawline by relaxing the underlying muscle to create a more feminine, oval or heart-shaped face. Dermal filler may also be added to the chin area when projection is needed.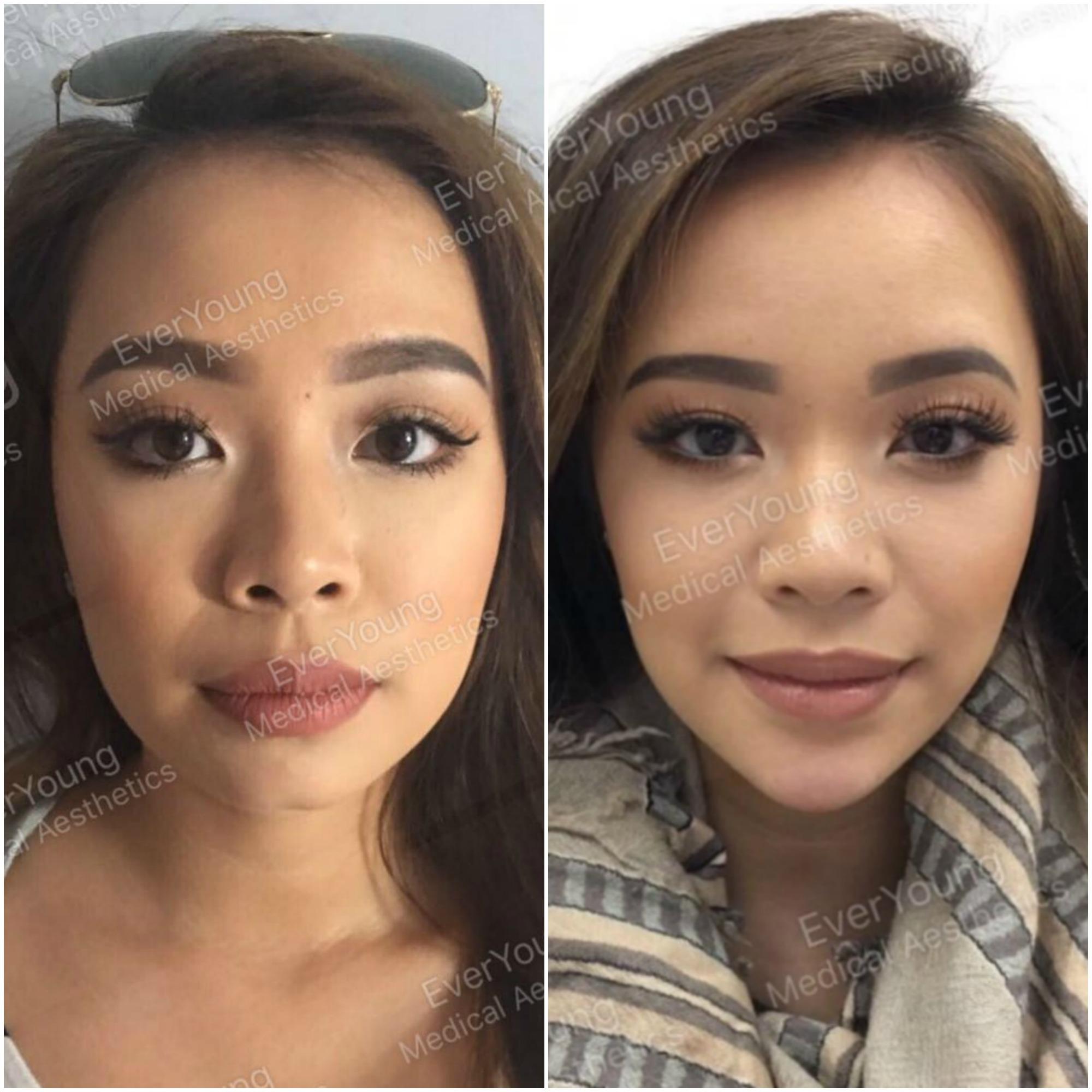 Actual EverYoung Patient / Jawline slimming and chin enhancement for a heart-shaped face
Jowls and Jawline Softening
With age two things occur to the jawline. Firstly: As the skin loses elasticity and skin begins to sag, the jawline appears soft and lacks definition and the corners of the mouth droop—forming wrinkles (marionette lines) that extend into the jawline creating jowls. Secondly: A loss of fat often causes two divots to form along the jawline known as pre-jowl sulcus, which further accentuates the appearance of jowls. Dermal fillers are used to fill in the lines, add volume where it has been lost, create a lifting effect, and camouflage the look of jowls with strategically placed filler. This procedure may also be combined with a skin tightening treatment.
Fill in marionette lines with dermal filler
If present—fill in divots with dermal filler
Disguise jowls with strategically placed dermal filler
Botox or Dermal fillers at the corners of the mouth will give a "lift" that counteracts the sagging
Treating the mid area of the face (cheeks) also creates a lifting effect
Non-Surgical Nose job (Liquid Rhinoplasty) in Vancouver
One of our most dramatic treatments—a non-surgical nose job is used to make the nose appear slimmer, or to conceal a bump on the bridge of the nose. Paradoxically, by adding volume, we are able to make the nose look smaller and more even with carefully placed dermal fillers. This is a procedure that requires advanced anatomical knowledge. You are in good hands with our EverYoung doctors, who have all received advanced training in facial sculpting techniques to ensure a beautiful result without surgery.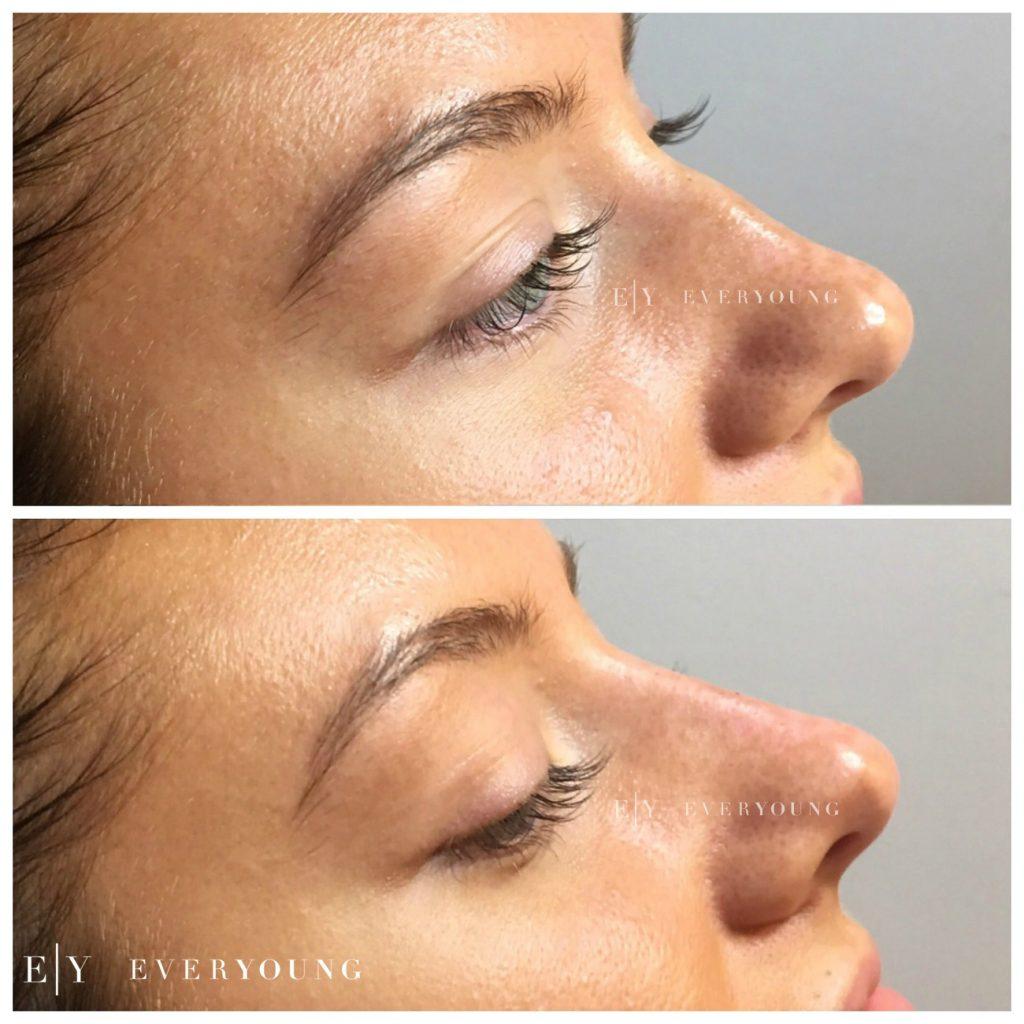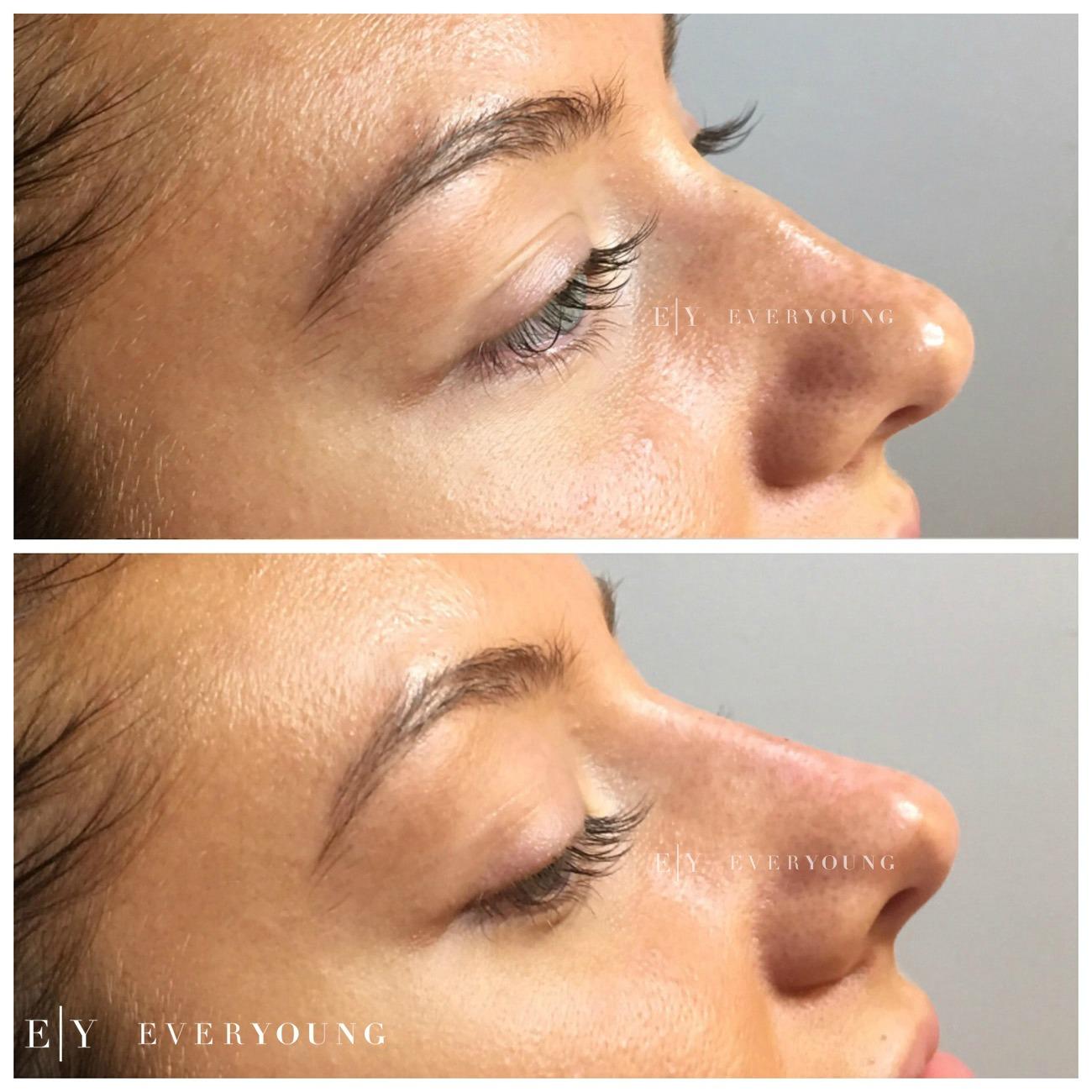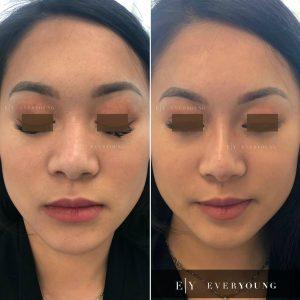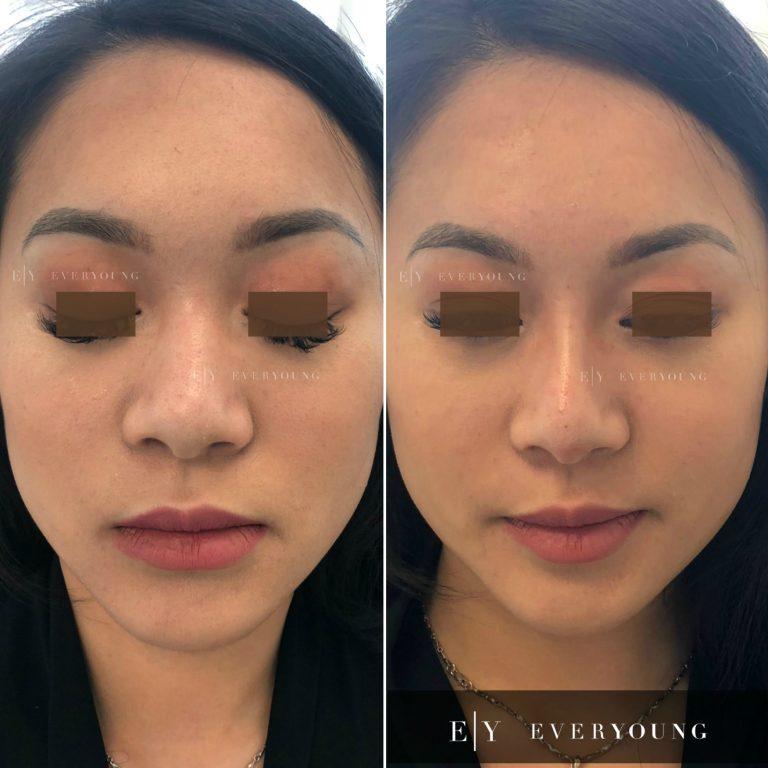 EverYoung Patient following nose bump correction / EverYoung patient following nose bridge slimming
Lip Enhancement in Vancouver
Long gone are the duck lips that inspired a decade of unflattering memes. Enter instead, full and luscious lips that are volumized and sexy—but so natural it will look as though you were born with them.
Lip injections are an art form in which the goal is to accentuate your lips while still maintaining overall balance. Whether your lips lend themselves to a keyhole pout or a balanced top and bottom depends upon your overall face shape and size. We pride ourselves on providing the right balance for a safe and sexy result.  Our doctors use a cannula for a gentle treatment that results in less bruising. We listen to what you want to achieve and work with you to give you a result you are comfortable with—whether it is a mini lip, a natural lip, or something more dramatic.
Our Patient's Selfies Speak for Themselves!
The best recommendation comes from our EverYoung patients who have shared before and after photos of their aesthetic results. View them during your in-office consultation, on our website www.everyoungmed.com or via our Instagram account where our beautiful clients often tag us with their results.
Your RESULTS begin with a CONSULTATION!
604-942-8849
Email: info@everyoungmed.com
At EverYoung Medical Aesthetics, we carry every FDA-approved dermal filler (also known as wrinkle filler or soft tissue filler), available in Canada to provide you with the perfect product to obtain your desired results.
Juvederm / Juvederm Voluma XC / Juvederm Vobella / Juvederm Volift / Juvederm Ultra / Juvederm Ultra Plus / Radiesse / Teosyal / Teosyal PureSense redensity / Teosyal Ultra Deep / Teosyal Ultimate / Teosyal Kiss / Restylane / Restylane Fine lines / Perlane / Sculptra / BellaFill / Belkyra / Belotero / Belotero Hydro / Belotero soft / Belotero Balance / Belotero Intense / Belotero Volume / Belotero Ultra / Revanesse / Revanesse Contour / Revanesse Kiss / Revanesse Pure