How Exactly Does Botox Work?
How Exactly Does Botox Work?
Botox is a brand name of a toxin that has long been used to block signals from nerves to muscles. This was typically used to treat all kinds of ailments including uncontrollable blinking, twitching, lazy eye, and more. However, it has been increasingly used to treat facial creases and wrinkles as well.
How Does It Work?
Botox, as noted previously, works by effectively blocking signals from nerves to muscles. The muscle that Botox is injected into can then no longer contract which means that the wrinkles that typically appear will become much softer and end up smoothing out over time. A lot of the times, this is used on forehead lines and lines that appear around the eyes. Unfortunately, wrinkles that appear as a direct result of sun damage and those that occur from gravity are not treatable with Botox.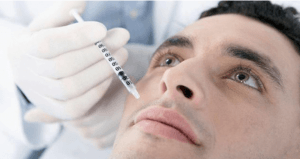 What Is Involved?
Botox is something that is a very simple procedure and it requires absolutely no downtime. In fact, it only takes a few minutes to administer. Typically, it will take anywhere from 3 to 7 days in order to see the results from the procedure. It can cause some bruising as well.
How Long Does It Last?
This type of treatment can last anywhere from 4 to 6 months. Because it is only a temporary solution, you will notice decreased effects once the wrinkles begin to reappear. Thus, you will need to consistently get this treatment done every time you notice the improvement wearing off. While the lines and wrinkles will generally improve somewhat after each treatment over the long haul and the wrinkles will certainly not get worse while getting Botox, it is not a long-term solution without getting the treatment redone.
Will Insurance Pay For It?
Typically, you are not going to get your insurance to cover the cost of this type of treatment purely because it is cosmetic. However, if you are getting the treatment for legitimate medical reasons that fall outside the range of being cosmetic, you might be able to get your insurance to cover some or all of the costs associated with the treatment. You will need to check with your insurance provider to see whether or not they will cover your treatment.
Risks and Side Effects?
When it comes to Botox, there are a lot of minimal side effects. It is typically well tolerated so it will not pose a significant threat to most people. Some people do develop resistance to the toxin itself which makes the toxin completely ineffective for them. However, this one occurs in one percent of the people that get the treatment.
Overall, there are a lot of benefits to this type of treatment. If you are looking to get rid of wrinkles and look better as you age, it might be something worth considering. However, it is a fairly short-term option for those that are looking to improve wrinkles and anyone that wants it must get reoccurring treatments which are not likely to be covered by insurance.