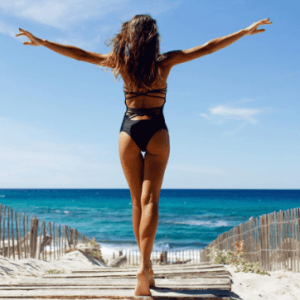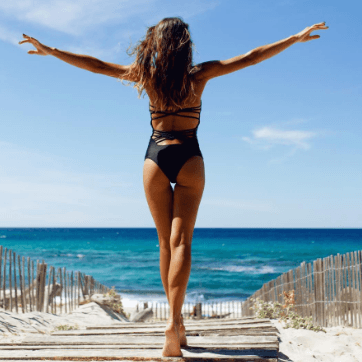 We all know diet and exercise is essential in maintaining a toned body shape however, on occasions, some stubborn fat remains.People have turned to plastic surgery in the past, but according to the American Society of Plastic Surgeons (ASPS), liposuction has declined in popularity by 30% since 2000 due to the rise of non-surgical body contouring device called Coolsculpting. Coolsculpting aims to provide a fast and effective treatment to reduce fat without any downtime, allowing for immediate return to work or play after the procedure. Unlike invasive procedures such as liposuction which may require general anesthesia and prolonged bruising and downtime. Coolsculpting patients see progressive results in as little as 3 weeks following treatment, and more dramatic results in 1-3 months after treatment.  
Coolsculpting, or cryolipolysis, is a fat-freezing fat reduction treatment that is said to rank #1 on the market today. This FDA-approved treatment can help reshape and smooth your body and thus, can increase confidence and allow you to wear what you've always wanted to. Many opt for this procedure to deal with bumps and bulges that cannot be treated with diet and exercise. These fat pockets are common in the hips, thighs, buttocks, arms, stomach, back, and chin. Coolsculpting is shown to have a high success rate in removing areas of fat from the body and have minimal side effects in comparison to other related procedures. However, just like these related procedures, people who undergo the treatment are required to maintain a healthy diet and exercise regularly. Research has found that people have lost up to 28.5 percent of the fat in areas treated by Coolsculpting.
EverYoung Laser and Skincare Clinic in Burnaby and Coquitlam BC provides Coolsculpting treatments without any required downtime. The treatment can be used as encouragement and enhancement in complements with diet and exercise to help you achieve your aesthetic goals.
What areas can I treat with Fat Freezing?
If you are looking to get Coolsculpting done in Metro Vancouver, BC, EverYoungMed in Burnaby and Coquitlam offers the following areas for treatment:
Abdomen

Back 

Bra bulge

Flank/sides

Muffin top

Love Handles

Thighs

Saddle Bags

Buttocks

Upper Arms

Hips

Double Chin
What are the benefits of Coolsculpting?
–       Coolsculpting is a well-studied treatment that has proven to be safe and effective
–       Removes unwanted fat in a noninvasive way
–       Ensures the permanent removal of treated fat cells
–       Slimmer and smoother body contours
–       High patient satisfaction rate
–       Centimeter loss in fat in treated areas
–       No anesthetics needed
–       20-25% fat loss per treatment session at its best
–       Low-risk procedure
–       Skin barrier is not broken or compromised
–       Natural-looking results
–       Low risk of skin dimpling
–       Can help those after undergoing weight loss who have excess fat
–       Less risk of regaining weight
How does Coolsculpting & Fat Freezing work?
This noninvasive treatment works by freezing fat cells in specific parts of the body. Unlike procedures like liposuction, that also deals with fat reduction, Coolsculpting does not involve surgery or anesthetic and is therefore safer than most other fat-related treatments out there. After destroying the fat cells, they are unlikely to return but a healthy lifestyle is extremely important to preserve the results of Coolsculpting.

Using the FDA-approved technology called Cryolipolysis, the technology exposes fat cells to cold temperatures for a specific amount of time where they undergo silent cell death without discomfort. The number of fat cells decreases and consequently decreases the thickness of adipose tissue in the area. This technology is localized, which means surrounding tissues are unharmed and unaffected. Skin cells, muscles, and nerves don't respond to low temperatures like fat cells do.
Many patients are happy after 2-3 sessions. Every session decreases the number of treated fat cells by about 20%-25%. The results are shown to last over 9+ years if body weight remains stable.
How much does CoolSculpting cost in Vancouver, B.C.?
Procedures using smaller applicators tend to cost $750/cycle, while larger applicators are more expensive. The costs depend on the areas,  the number of areas treated. Areas with more fat require more treatment.
What are the risks of Coolsculpting?
Coolsculpting has minimal, if any, side effects. People may see transient swelling, redness or mild bruising in the area after treatment. When undergoing the procedure, two cooling panels will be placed on the part of your body being treated. At this time, you may feel mild tugging or  cool sensations for a few minutes before reaching total comfort level.i
At EverYoung, we believe that great technology can only go so far. More importantly, it is the expertise of our certified coolsculpting technicians that makes the biggest impact on outcome! Head over to EverYoungMed.com and click the 'Book an Appointment' form or call in at either the Burnaby or Coquitlam locations. Staff are there to use their expertise and skill to provide support for all patients to reach their aesthetic goals in relation to Coolsculpting. In your consultation, we will determine your goals and go through an individual assessment to customize the best treatment approach for you.