A Beginner's Guide Of The Things
To Do In Coquitlam BC
A Beginner's Guide Of The Things To Do In Coquitlam BC
Visiting a new town can be highly exciting as each city presents with different activities and features. British Columbia is one of the most interesting states in Canada, and Coquitlam is one of the more beautiful cities in the state. This article will discuss Coquitlam and provide information on the different things to do in Coquitlam BC. Using this article, you will be able to make a plan of tourist activities to complete during your visit.
1. The Town Center Park
The Town Center Park is located in the central area of Coquitlam, just north of the main Coquitlam shopping mall. This park is particularly important because it is surrounded by many significant community services, including the Coquitlam city hall, the police station, the fire station, and different educational facilities. The park presents with different sports courts and in 2007 an additional synthetic turf field was constructed for people to enjoy playing athletic sports, such as javelin or shot put.
2. Mundy Park
Another park located in Coquitlam is Mundy Park. This park is worth viewing because it is the largest park in the city and has several trails, including two trails that cross the Lost Lake and the Mundy Lake. Mundy Park also presents with different sports fields, an outdoor swimming area, a lacrosse box, a playground for children, and a family picnic area. One popular feature of this area is that the park was used as a scene for the film 'Deck The Halls' in 2000 starring Danny DeVito and Matthew Broderick.
3. The Hard Rock Casino
If you are searching for indoor entertainment, then it may be worthwhile to consider visiting the Hard Rock Casino. The Hard Rock Casino is one of the largest casino facilities in British Columbia presenting with over 80,000 square feet of casino floor whereby there are 950 casino slots and different card games tables.
In addition to casino games, the Hard Rock Casino offers entertainment performances including the best in comedy, music, and local artists trying to begin their careers. To complement the entertainment and gaming experience, the Hard Rock Casino offers a gastronomic sensation with several chefs serving different types of dishes.
4. The Como Lake Park
Como Lake is one of the smaller lakes located in the Como Lake Park in Coquitlam. Despite being a small lake, it forms part of the head Como watershed and is one of the more popular urban fishing areas. The lake is popular with walkers and joggers because of its calm atmosphere, and the fact that the trail around the lake is only one kilometer in length. At the moment, this urban fishing lake is stocked with carp, trout, and catfish.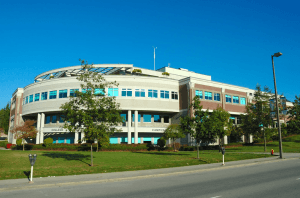 5. The City Center Aquatic Complex
The City Center Aquatic Complex located in Coquitlam, British Columbia, is an indoor aquatic structure most well-known for its Olympic-sized swimming pool. The building presents with a simple Florida Keys interior theme, meaning that there are various palm trees with pelicans and hand-painted murals. The aquatic complex also offers a wave pool with a mock rescue boat and a water spraying alligatreor waterslide.
This post was contributed by Ever Young Med. Visit our Coquitlam laser clinic
With locations in Burnaby & Port Coquitlam, we proudly serve people throughout greater Vancouver and the lower mainland with all of their acne, skin and beauty needs. 
Contact us now to book an appointment.
EverYoung Medical Laser &
Skin Care Centre in Metro Vancouver