Microneedling Vancouver BC | Microneedling Treatments at EverYoung
Rejuvenate your skin and reduce the signs of aging with microneedling treatments at EverYoung Clinic in Vancouver.
Microneedling + Growth Factors What Is Microneedling?
When you want to wake up your face, microneedling is the way to go. Over time, microneedling treatment can help reduce the signs of aging on the skin which include fine lines, wrinkles, age spots, and acne scarring.
Microneedling, also referred to as collagen induction therapy, is the fine art of wound healing and the production of collagen for smoother, tighter, healthier-looking skin. It is a popular technique for reducing surface-level texture like scarring, fine lines, and other impurities.
The treatment combines deep exfoliation with plumping of the skin to enhance facial contours and create a smooth, glowing complexion.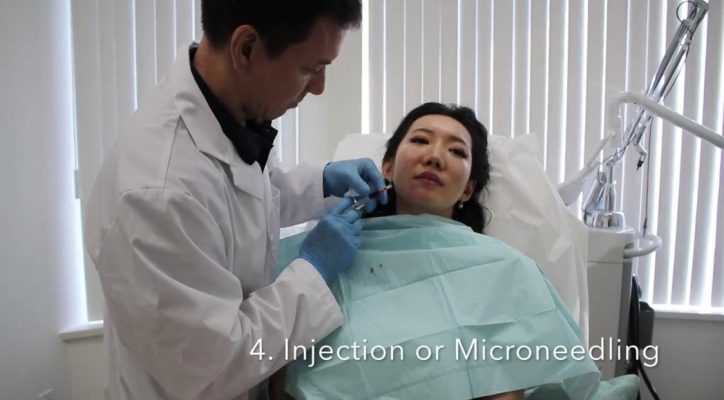 Microneedling at a Glance
How Does Microneedling Work?
Microneedling uses tiny needles called microneedles to damage the outermost layer of skin, allowing for a strong regenerative environment where collagen and elastin can grow. The microneedle creates a controlled injury to stimulate healing in a natural way so that new collagen forms immediately after treatment.
The microneedling procedure also uses platelet-rich plasma (PRP) injections to amplify the microneedling effects. The procedure is minimally invasive and takes around 10 minutes, depending on the area being treated.
Benefits of Microneedling
Microneedling comes with a plethora of benefits because microneedling stimulates your body to rejuvenate, creating lasting effects, optimal results, and skin health. Some other microneedling benefits include:
What are the risks of Microneedling?
What microneedling treatments does EverYoung Clinic offer?
EverYoung offers microneedling treatments in Vancouver that use the industry-leading derma roller system for microneedling. The microneedle roller is made from stainless steel needles in a starburst formation and comes with microneedle roller microneedling heads in 0.5 mm, 1.0 mm, and 1.5 mm options.

Our microneedling treatments at EverYoung Clinic in Vancouver can be used for mild to moderated skin concerns.
What is the treatment like?
The treatment is easy in and out, in only 60 minutes. A topical numbing agent is applied to alleviate any discomfort felt by the treatment.

The post-care is very simple with some light redness to be expected. This treatment is classified as a 'lunchtime procedure', and provides the ability to return to work without having to miss any important time in your working life.
How many treatments will I need?
This is hard to determine as each and every client may have a differing degree of concern. To create the perfect treatment plan please reserve your complimentary skin consultation so we may use the latest in technology to look at the deep layers of your skin.

On average, clients will receive around 4-6 treatments to tackle their concerns on a long-term basis.