What Type Of Weather & Climate
Can You Expect Living In
Vancouver, British Columbia?
What Type Of Weather & Climate Can You Expect Living In Vancouver, British Columbia?
Described as having a moderate oceanic climate, Vancouver, British Columbia features rather accommodating weather. There is no utopia on earth in terms of climate, but let's just say that Vancouver features a little bit of everything. You get all four seasons, and you can expect sea breezes and even local weather variations among the different areas of the city. Given that there are times of the year that are extremely dry and times of the year that are the exact opposite, the best way to put it is that the climate in Vancouver is quite eclectic.
November is the month that Vancouver gets the most rainfall. December and January aren't too far behind, and October and March also are times of the year when Vancouver sees significant amounts of rain. The annual rainfall average for the city is just over 31 inches. Can you guess the hottest and coldest months? The coldest month is actually December, and the hottest month is August. That lines up with what you can expect for the most part throughout Canada and also North America in general.
It was mentioned that you can expect sea breezes, and Vancouver does get rather windy during certain times of the year, too. The windiest month is March. As for the average temperatures, you are talking about numbers that represent very comfortable weather patterns. Cities that enjoy warmer climates often are subject to times of the year where the warm temperatures can even get uncomfortable. The same can be said for colder climates and colder temperatures. Vancouver falls in the middle somewhere, making it an ideal place to enjoy the four seasons.
While the weather averages and climate statistics show you what to expect, it should be said that one thing that is largely unpredictable in Vancouver is precipitation. There are certain areas of Vancouver that do see more rain annually, such as the North Shore Mountains. It's all about the elevation.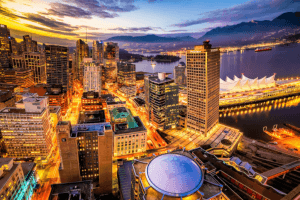 There are the average monthly temperatures to look at, but what's the average annual temperature? The average annual temperature is right under 52 degrees. You might have heard about how Canada is known for cold weather. Well, it's a good time to mention that the average annual temperature in Vancouver of 52 degrees represents the city being one of the warmest in the country. That's a good thing considering the fact that Canadian cities in general are in fact known for having colder climates.
You get the warm weather, but it's not too warm. You get the cold weather, too, but it's not too cold. You get the best of both worlds so to speak when it comes to the weather patterns in Vancouver, British Columbia, even if the precipitation is unpredictable for the most part. Given that Vancouver is a little warmer than most Canadian cities, you can also expect a longer growing season. While the winters are more mild, that doesn't mean there can't be winter storms that make themselves known; however, for the most part you can expect mild temperatures during all four seasons.
This article was contributed by Ever Young Med Vancouver. Read this interesting article to learn more about Vancouver
With locations in Burnaby & Port Coquitlam, we proudly serve people throughout greater Vancouver and the lower mainland with all of their acne, skin and beauty needs. 
Contact us now to book an appointment.
EverYoung Medical Laser &
Skin Care Centre in Metro Vancouver